MAC's third "Beauty Icon" collection is now available at
maccosmetics.com
and
gloss.com
and in the stores. Each "Beauty Icon" collection pays tribute to a particular celebrity. The two previous honorees were Liza Minelli and Diana Ross. MAC has always been unconventional (recall that female impersonator
RuPaul
was the spokesmodel for MAC's first print campaign), but what was MAC thinking by selecting Liza Minelli and Diana Ross? I discussed Ross in a
post
on on this blog from last year. Liza Minelli's career after her breakthrough role in the movie
Cabaret
(1972) has been plagued by addictions, lousy vehicles to showcase her talent, and four marriages that ended in divorce: the last marriage, to producer David Gest, ended with a
lawsuit
claiming that
she
abused
him
. Both Minelli and Ross are also plagued by lasting associations with Michael Jackson.
The current collection honors
Catherine Deneuve
, who is not only working steadily (she's now 62), but who also has become the model for aging well. She eschews cosmetic surgery, and chose to keep an extra fifteen pounds rather than incur wrinkles.
Catherine Deneuve for MAC (2006)
This is not the first time that Deneuve has modeled for a beauty product. In the 1970s, she appeared in an ad campaign for Chanel no. 5. She is more
sensual
at 62 than she was in her 30s!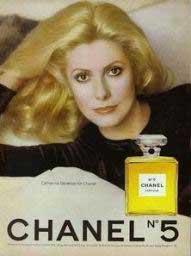 Catherine Denueve for Chanel no. 5 (1970s)