I was running low on loose powder (Clinique translucent, which has been my standby), so this seemed to be a good time to try out mineral makeup. I succumbed to buying the starter kit from the most aggressively marketed of all mineral makeup brands - i.d. Bare Escentuals, which is hawked via informercials, 30-second TV ads, shows on QVC, and retail outlets including
Sephora
, Ulta, and its own Bare Escentuals boutiques.
Bare Escentuals Get Started Kit
The starter kit I selected includes mineral foundation in Light and Fairly Light (which, as I discovered, didn't mean "somewhat light" but in between Fair and Light), Mineral Veil finishing powder, Warmth all-over color, a face/blush brush, a fluffy kabuki brush, and a concealer brush. This kit also contains MD Formulations Facial Cleanser and a DVD showing makeup application, but as I have not used these products, I cannot comment on them.
I was skeptical about the claims, as the "before" and "after" pictures shown on TV looked fake – if anything, the "after" pictures showed how eye makeup can really brighten one's appearance. But I found that the application helped tone down the ruddiness of my cheeks. The application of Swirl Tap Buff® (yes, it's a registered trademark) is simpler than my routine of dotting on liquid foundation and blending, and then applying loose powder, and there is no obvious demarcation. The mineral makeup finish was matte, but not dry and flat. I used the Light mineral powder foundation as my base color and the Fairly Light mineral powder foundation as a concealer.
The foundations are formulated with titanium and zinc oxides (yes, the same stuff in the white ointment favored by lifeguards), occlusive agents that serve as physical barriers to sun exposure. While the products are rated as SPF 25, it's unclear how much one should apply to get that level of sun protection.
As the mineral foundations give a nice matte finish, I don't know if the Mineral Veil finishing powder really adds anything, although I do apply it. The principal ingredient in Mineral Veil is cornstarch, which does blot up oil; also, baby powder is often formulated with cornstarch, as it is soothing to the skin.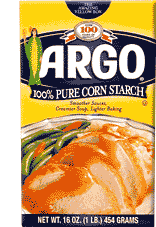 Cornstarch - the principal ingredient in Mineral Veil
The Warmth all-over color is the color of rust, which suggests that it contains iron oxides. I'd rather stick with my regular blush, which is Aveda's
Tesserae
, which features 3 shades of different intensities that I can blend together.
Am I a convert to mineral makeup? I expect to continue to use liquid foundation, but I am pleased with the results of mineral makeup. Mineral powder foundation is a nice alternative to liquid foundation and great on those days I don't want to fuss with blending liquid foundation into my skin (I'd rather spend the time on eye makeup application). As the weather gets warmer, I will probably be relying more and more on mineral makeup. All things considered, mineral makeup was a pleasant surprise to me.